Mandinka Lodge
Just off the main coastal road. A 5 minutes walk to all main attractions at the famous Senegambia strip and 600 metres to the beautiful Kololi Beach. You will find us in a peaceful friendly area called Kololi (Senegambia). Where you can experience the African way of life on your doorstep.
As you step out of the lodge you can witness everyday life in Gambia. A perfect location if you want to get the real Gambian experience!!
Bijilo Forest and monkey park is with in 10 minutes walking distance. The independence stadium, Tanji fishing village, Lamin lodge, the crocodile pool, Serekunda market, to name just a few, are all within easy reach, as are taxis, local transport, banks and money exchange. We are ideally situated for both business and pleasure and discovering the Gambia.
Mandinka Lodge, Kololi (Senegambia), The Gambia, West Africa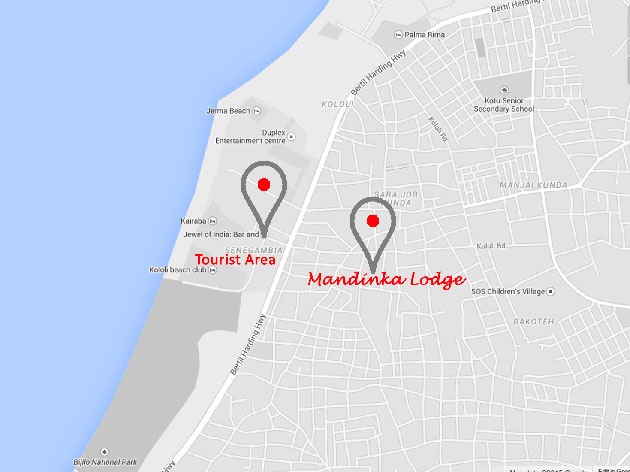 The distant from the tourist area to Mandinka lodge is approximately 600 meters.